If you've read the same articles and posts that I have, you'll know that setting up an FBA Amazon business can be a lucrative way to make money.
But if you've done that, you've also seen the blogs and updates that tell you just how difficult and complicated it is to get started. There are steps to take, guides to follow, and lots and lots of advice you will find online. Some of it is helpful and some of it is decidedly NOT.
Sorting the wheat from the chaff when it comes to advice about making money on Amazon is one of the first and most difficult tasks you're going to have to tackle. Let me make it a little easier for you and tell you straight up that Amazing Selling Machine 2018 X (ASMX) is, hands down, one of the most useful, actionable training courses about Amazon FBA selling that I have ever seen.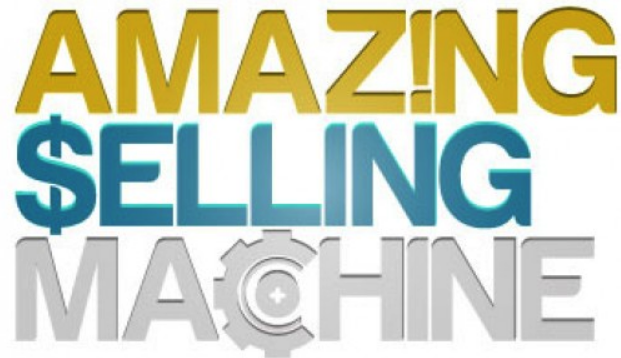 Let me explain to you why it's so good and why I think it should be your first stop.
Written by Jason Katzenback and Matt Clark, and taught by Mike McClary and Rich Henderson, ASM 2018 X is a course that teaches you to succeed with fulfilled by Amazon businesses. It's been around since 2015, and a new version is released with every new iteration of Amazon's service. ASM 10 (or X) is due to drop on October 2nd, 2018.
These updates aren't just "change a comma here" or "add a sentence there" updates. The next one, for instance, is supposed to add 40% new content to ASMX.
Among this juicy new content is:
New 8 module web class: Over 120 video lessons

8 weekly live coaching calls: Mike McClary and Rich Henderson, creators of the course, host them

Private resource vault: Notes, tools and resources

Access to a new tool suite:




– ManageByStats (Free for the first 12 months)




– Brand Launchpad and Continual Sales system (free for the first 6 months)




– New ASM Business Dashboard and

Keyword research tool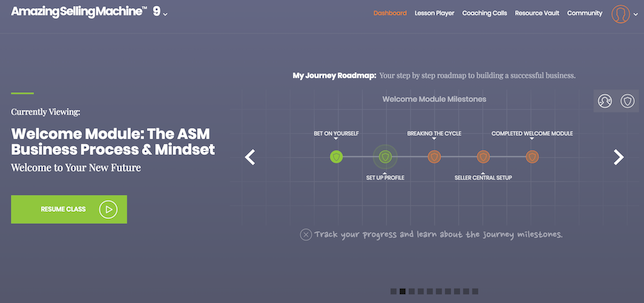 First up, the course starts from absolutely 0 knowledge, so if you are coming into this with no experience in Amazon FBA sales at all, do not despair – ASM will start you from the very beginning.
Each course has 8 modules. These modules are in turn divided into multiple lessons that run for over 10 hours. That's some seriously juicy information! At the end of each module, there's a live coaching call. You'll have direct access to this if you sign up during the launch but, if you don't, you'll be able to listen to a recording later.
The lessons are given by video and are a combo of live screen shares and presentations.
The ASM community is dynamic. There's a forum on the site, and an active Facebook group too. In the forum, you'll be able to get help from other people taking the course, as well as mentors, who are ASM graduates who have made over $1 million in sales using Amazon FBA!
What Is Amazing Selling Machine 2018?
Welcome Module: The ASM Business Process and Mindset
This is, as you might expect, a module that helps you get on the same wavelength as the course, and sets you up to get the most from it. Well worth your time.
Module 1: Building Your Product Opportunity List
This is all about the very first steps – setting up an account, finding out the characteristics of a product that sells well on Amazon, and choosing the product you will eventually sell.
Module 2: Suppliers, Samples & Profit Numbers
A really important module, module 2 tells you how to source your new product (US & China) and how to ensure you'll get samples, so you can assess the quality and decide whether it's the right supplier for you.
Module 3: Ordering Your Inventory & Creating Your Brand
This module is where the magic happens! You'll create a brand name that works, design attractive packaging and get your products on Amazon so that the selling can commence.
Module 4: Building Your Brand Assets
Here you find out how to create a great website for your brand. You'll also get advice about setting up accounts on social media so you can connect with your prospective customers.
Module 5: The Perfect Product Page
Making a perfect product page is a science and an art, which is why this module is very important. It will walk you through the 8 parts of a perfect page.
Module 6: The Perfect Product Launch
ASM has a patented product launch ranking method, which they lay out here. This is essential to drive that initial traffic, sales, and reviews to your product.
Module 7: Advanced Marketing and Traffic Tools
Once you've started to get traffic, sponsored ads on Amazon will help maximize it. This module also addresses customer service, to make sure your clients are always happy with your service.
Module 8: Taking your Business to the Next Level
Now you'll be coming to the end. This last official module is all about scaling your business so you can grow, hire a team, and increase revenue.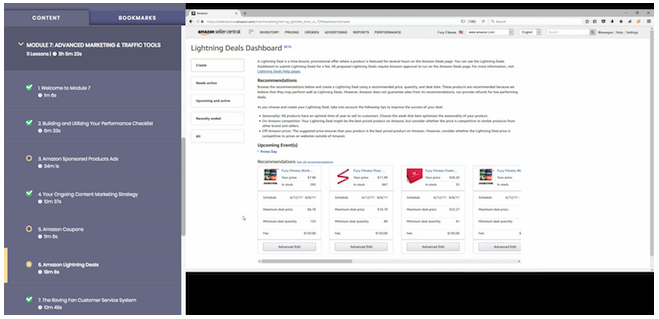 Supplementary Lessons
The Supplementary Lessons section offers you some really interesting videos, 9 in total. Among them are interviews with successful ASM graduates and the final coaching call.
Private Resource Vault
The vault is effectively where you'll find the notes accompanying each module. You'll be able to download them in PDF format and refer to them after the lesson to help you better apply what you were taught. You'll find other downloads here too, mainly templates, etc. that were mentioned in the lessons and a list of resources that you might find helpful in your business.
ASM X 2018 Pricing
Well, it's true – ASMX isn't cheap. In fact, it's what most put me off from buying it before I did.
It costs $3,997 or a payment plan of 5 installments of $999. Now, that is a lot, but there are a few provisos that make it, in my opinion, a really good deal.
Firstly, that payment plan can make things easier in some cases, even though you will end up paying more.
Second, if you pay now, you will automatically be entitled to all of the updated courses released in the future.
Thirdly, there is a 30-day money back guarantee for ASM. If at any point in the 30 days you feel like you won't be able to make it work for, you get your money back, no questions asked. 30 days is plenty of time to get a really good look at the course before you make your decision.
Finally, there's also a 6-month Buy-Back Promise. This is really amazing. You take the course and try to make it work for 6 months. If you can't make it work and don't see a future, ASM will buy your business from you for the cost of the course, and up to $10,000 of your stock.
With these buy-back schemes and guarantee, ASM is practically risk-free if you genuinely put in the work. That's amazing!
How likely is it for ASM X to Work For Me?
Well, how long is a piece of string?! It's a valid question though, and I would say that it's not for everyone. ASM X requires action and consistency. That means that it will work best for you if you can dedicate regular time to watching the videos in sequence, reading the PDFs, and getting in on the live calls. Most importantly, it will help you greatly if you can start to follow the steps outlined in the course and get started setting up your business, getting samples, and buying stock. If you don't have the funds to do this, you might be better off waiting until you do so you can really follow through on what you are learning.
Even if you are ready to take the plunge, you'll learn that selling on Amazon and following the course can be challenging in its own way. You'll be much more successful if you are open to asking questions and receiving help and participating in the resources ASMX provides, like the forums and Facebook group.
Obviously, if you're already thinking that the price of the course – $3,997 – is too much, then now is not the right time to invest. If you can't afford the course, you definitely won't be able to afford the inventory. Wait until you have more cash, and then you can really invest in your future.
Are there any alternatives?
Sure, there are lots of alternative courses out there, all with their own pros and cons. Make sure to read the reviews for them before buying, just like you're reading this one now! There are also lots of books and podcasts on the topic. Search Google and iTunes to find the best reviewed options. Personally, I like AMZsecrets by David Aladdin and Malik Enterprises Inc, by Jordan Malik.
ASM Review and Final Verdict
ASMX is an awesome course, and I think that if you're serious about selling via FBA, it is an excellent path to a bright future. Even if you're a total beginner, it will take you by the hand and bring you right up to speed.
That said, it's a course that will only really help you if you are more than willing to put the effort in. You need to follow the course consistently and be willing to forge ahead with what you learn, putting your knowledge into action immediately to get started on the path. Accept this, and you won't have a problem.
In short
Pros
Starts right at the very beginning and brings you all the way to the end

Dynamic community and help

Very practical – not just theory

Lessons and notes are well organized

Coaching calls are valuable resources
Cons
Requires consistency and action

Price can be intimidating

Must be able to invest in stock quickly
You can