About GfK NOP, LLC and
GfK Automotive
GfK NOP, LLC, headquartered in New York, and GfK Automotive, based in Southfield, MI, were established in 2005 when NOP World was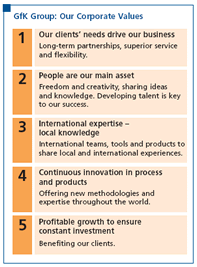 acquired by GfK Group AG in Germany.

Our industry-specific experts work closely with
specialists from our marketing Centers of Excellence
(market opportunity, brand strategy, marketing
effectiveness, customer management) and supporting practice areas to blend syndicated data with custom insights. GfK NOP and GfK Automotive can leverage these capabilities for clients in North America, South America, Europe and Asia by utilizing the company's extensive international network.
This approach enables our research consultants
to identify and develop proven research-based
solutions to help clients address marketing challenges and improve business performance.
Specifically, our syndicated resources include several of the world's oldest and largest databases, such as Roper Reports® US, Roper Reports® Worldwide, Starch® Ad Readership, AFI® Automotive Intentions and Shopping, and Mediamark Research
Inc. Audience Measurement.
We draw from these vast database resources, in addition to custom research, to provide clients in 7 key industries (automotive, financial, business-to-
business, technology, consumer, public affairs and media) with customized decision-support at each phase of the marketing cycle.

Supporting the efforts of each sector-specific business unit and CoE are our specialized practice areas, which include Starch Communications, GfK Qualitative Practice (including Ethnography), GfK Mystery Shopping, Friedman, and GfK Omnibus Services.
GfK NOP has over 400 full-time employees in locations throughout the United States.